ACC Auctions
Auction FAQs   Submit a Vehicle   Contact ACC Auctions
AllCollectorCars.com now offers 7-day Live Online Auctions.  New auctions begin daily Monday-Saturday.  Bidding is safe, simple, and secure.  All you need to do is go to this page to create your free user account.  ACC Auctions Registration *credit card is only required if/when you are going to bid on a listing.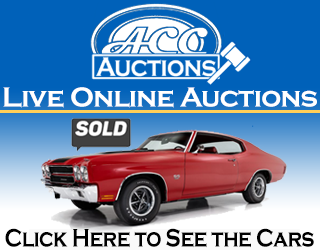 ACC Auctions was designed to provide a smooth and simple experience for both buyers and sellers.
Sellers submit their vehicles to ACC Auctions and our team begins going through every detail possible to ensure the vehicle is of the quality that buyers are expecting.
We work closely with the sellers to present buyers with honest information and high quality photos.  We also make sure their listings include all everything you could possibly need to know about that vehicle, before you bid on it.
During the live auctions you will be able to post comments and questions which the sellers and other members of the ACC Auctions community can reply to.  We want you to feel like you have a perfect understanding of the vehicle and its condition before you proceed with bidding. To gain access to the comment sections you must Register Here.  
You can also choose to Watch certain vehicles or generic makes and be notified when important changes occur or when the auction is coming to an end.  We also have sniping protection in place to allow everyone a chance to get their best bids in and to get our sellers the best possible price. (sniping is when someone tries to wait until only a few seconds remain to enter their bid)
Once the auction is complete and the reserve is met, we will provide contact info to the seller and highest bidder and be here to help guide them through the rest of the sale.
---