About Us
SHOWROOM HOURS

Monday - Thursday 9 AM - 6 PM
Friday 9 AM - 5 PM
Saturday 10 AM - 3 PM
Sunday CLOSED
Feel Free to Browse our Lots at 1926 Rte 9 Anytime!
Our Story...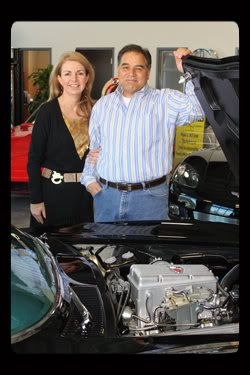 As a teenager in Troy, New York, Joe Verrillo began his life-long commitment to the "True American Sportscar" putting all his energies into learning about the Corvettes, how they were assembled, the mechanical workings, and more. His goal was to be an expert in all aspects of the this ultimate sportscar. He apprenticed at the local GM Dealership in the reconditioning and body shop working his way into the mechanical shop paying close attention to every detail constantly striving to widen his knowledge and improve his skills!

In 1975, Classic Auto Sales and Service opened for business with Joe Verrillo as CEO, Salesperson, Mechanic, and all around Corvette Specialist! Joe did very well as he had many mint-condition, used corvettes for sale.

In 1979, Joe met Sunday. She too shared the love of Corvettes! Bringing her commitment to customer service, management achievements, creativity for product presentation and marketing skills, in 1980 they merged to become Prestige Motor Car Company Sales and Service.

Together they began establishing a reputation for personalized customer service, offering low mileage, original, thoroughly serviced classic and late model Corvettes and Specialty vehicles.

For the last 28 years, they have maintained the same high standards and personal integrity that was the foundation of their relationship both professionally and personally. They are very proud of the reputation they have earned among Corvette enthusiasts. Much of their success can be attributed to word of mouth advertising and repeat business! They stand by their motto: "Where quality is our feature and your satisfaction is our future." Each vehicle offered for sale at Prestige Motor Car Co. has been personally inspected by Joe Verrillo and must endure an intense inspection and thorough service by our Corvette Specific Technicians.

Sunday Verrillo and Joe Verrillo continue their commitment to the True American Sportscar as founding members of the National Corvette Museum in Bowling Green, Kentucky and as members of the National Corvette Restorers Society: Joe Verrillo also judges at certification meets.

If we don't have the specific vehicle you want in our inventory, complete our Wish List form and we will try to find it for you. If you have any questions, or if you are interested in selling or placing your vehicle on consignment with us, call 518-373-1403, email [email protected] or use our contact form.