Modern Muscle Cars Mustang Street Fighter GT
STREET FIGHTER GT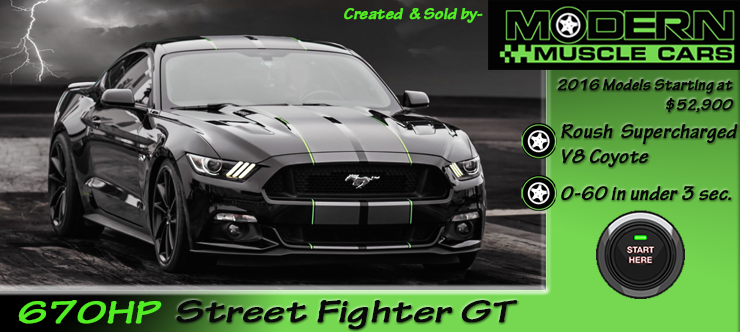 We take a nearly new Mustang GT and give it the full Modern Muscle Cars treatment. Our Street Fighter GT package consists of a Roush Supercharger, an Eibach performance and handling suspension kit that lowers the car by approximately 1 inch and 20″ custom KMC rims with Nitto NT 555 tires for that extra traction needed with this kind of horsepower. In addition, we add a Solo Performance axle back exhaust so that it sounds as bad as it is!The Street Fighter wouldn't be complete without custom leather seats with matching stitching front and back, and the custom striping down the center line. We badge it as "Supercharged on the hood as well as side panels and rear. The end result? The Modern Muscle Cars… "Street Fighter GT." 670 HP that puts 584 horsepower to the rear wheels. (See the dyno sheets.) Check out the walk around video below and hear it run!
This car is VERY fast. It's faster than our 2015 Challenger Hellcat. With just a tune, you can increase the horsepower to 630 at the rear wheels which calculates to 750 at the crank. The 2015 Mustang GT Street Fighter is expected to accelerate from 0 to 60 mph in under 3 seconds, and go through the quarter mile in low 11's. If you want a car that is faster than a GT350 and faster than a Shelby, AND you want to save $20,000 dollars in the process, then the Street Fighter GT is the car to choose. Available in both automatic, or a six speed manual, and in the following colors: black, red, orange, yellow, white, blue, grey, silver and green.
Modern Muscle Cars can ship anywhere in the USA and we can assist you with shipping to most foreign countries as well.
We are located in Ocala Florida just an hour and a half from Orlando and the Disney area. Let us put you behind the wheel of the most awesome new muscle car on the streets!
**ICING ON THE CAKE ALERT**
 Roush Performance 3 yr/36,000 mile warranty is now available!!!
 Click Below for Details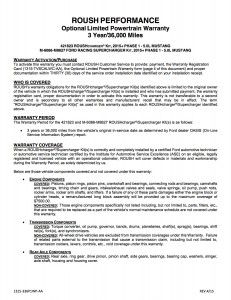 >Click Here to View the Full Inventory for Modern Muscle Cars

_______________________________________________________
While you are here… ACC Has Over 35,000 Classic & Collector Cars For Sale!